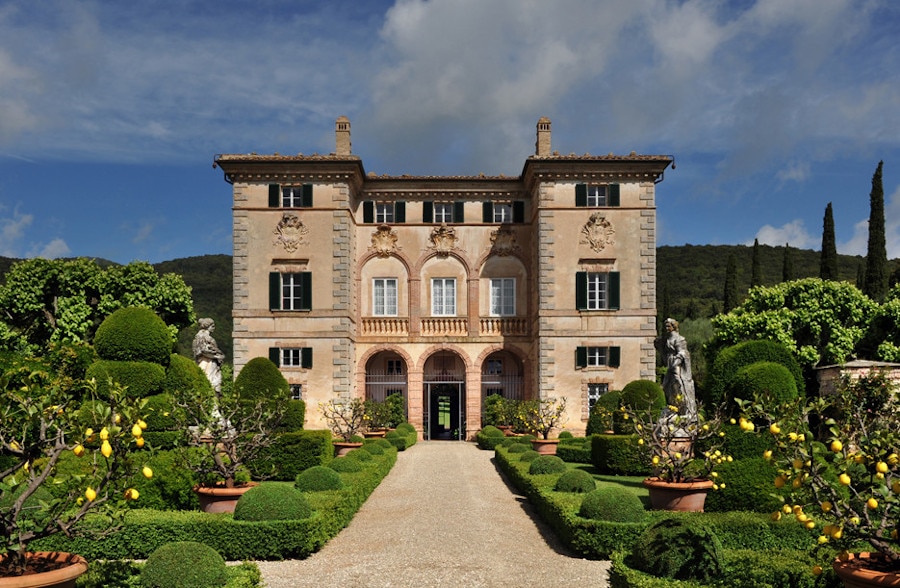 A dream becomes a plan, and a plan begins with the place. As one of the best wedding planners in Italy, our team at The Tuscan Wedding has toured and worked with many of the top luxury Italian wedding venues. Over the next few weeks, we're going to share some of our favorite Italian villas for a destination wedding in Italy. We'll begin with one of our favorite destinations for a luxury Italian wedding: Villa Centinale.
Why Get Married At Villa Centinale?
Why we love this destination: It's been called one of Italy's most beautiful gardens by both the novelist Edith Warton, and acclaimed garden designer Vivian Russell. Villa Centinale offers iconic gardens and a private paradise for your luxury wedding.
As your trusted Italian wedding planner, we love this Tuscan villa because of its large spaces and never-ending staging possibilities.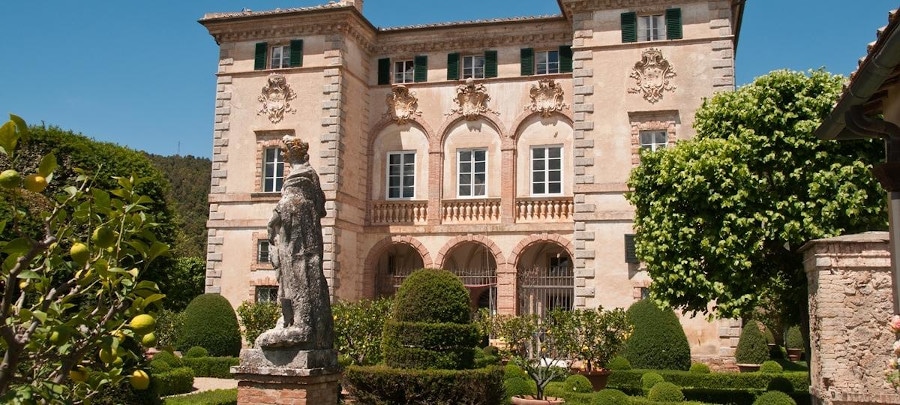 The Destination
Villa Centinale is a 17th-century villa in Centinale near Sovicille in Tuscany.  About 12 km from Siena, it is a wonderful space to host your guests when you've come for a destination wedding in Italy. With 13 bedrooms, Villa Centianle can become your home in Tuscany.
You and your guests can spend the day relaxing on the property, lounging by the swimming pool, exploring the gardens, or even taking a private cooking class with the on-site chef.
Nearby you can venture out to explore the area's ancient monasteries, go horseback riding or visit the historic town of Siena.
Getting Married At Villa Centinale
Boundless, with breathtaking views, the property offers endless options when planning your luxury wedding in Tuscany. It's a private garden fantasy land with climbing roses, ivy-covered pergolas, secret walkways, and Cyprus-lined corridors. A place of space and possibility.
Imagine. Ancient statues surround you as you take your vows in one of the large gardens. A cool breeze drifts through the air carrying the aroma of roses, wisteria, and lemon.
The wedding moves, and now in the shade of the Villa, tuxedoed waiters pass canapès and champagne.
You and your spouse sneak away for a private photoshoot wandering through the garden's lush pathways.
Dinner At Villa Centinale
For dinner, between a corridor of Cyprus trees, a long table is laid out. Music plays softly in the background.  The sun is setting as the plates arrive. When you breathe in, it is a mix of Tuscan countryside and laughter.  You are timeless, careless on your wedding day, surrounded by the people you love most in the world.
After the toasts and dinner, all eyes are on you again as you climb the staircase to your cake cutting. This is your night, your dream, your memories and they are just beginning.
An Unforgettable Reception
And now, you are inside. The music is playing. Your family and friends are taking photos.  A disco and bar have been created just for you by your Italian wedding planner, where you can dance until the early hours of the morning.
And you do, because you don't have to go anywhere. When you are ready, you and your new spouse climb the staircase and retreat to your palatial bedroom.
Imagine. You have had a perfect day.
Get Started With Our Luxury Italian Wedding Planners
Your Italian wedding planner, Daniela Tripodi, and her team at The Tuscan Wedding take care of everything. Creating your dream Italian destination wedding.
As your luxury Italian wedding planner, our team loves Villa Centinale because there are so many gardens and so many unique spaces. With such a vast garden playground,  the possibilites to create your perfect day are endless.
While we hope this helps you to dream a little, it is just one set-up of many that our team at The Tuscan Wedding can create for your destination wedding in Tuscany. We love introducing you to a space where we can design surprises and beautiful memories for you and your guests during your luxury Tuscan wedding.
At The Tuscan Wedding, your Italian wedding planner – Daniela Tripodi, and her team, would love to help you create your dream destination wedding anywhere in Italy.