Italian weddings are traditionally Catholic faith ceremonies and have foundations for religious and spiritual values. Therefore Italian wedding readings have solid and meaningful interpretations when embarking as husband and wife. They can vary from romantic to impactful, so we've put together a short guide on how to choose your readings.
Choosing A Speaker
When choosing your wedding readings, the first step is to select a reader. It could be family, a close friend, or a religious connection. The Tuscan Wedding advises ensuring your reader is comfortable with public speaking and has a way with words. Most importantly, whether they have a meaningful relationship with you as a couple. These qualities make the meaning behind this reading that much more substantial.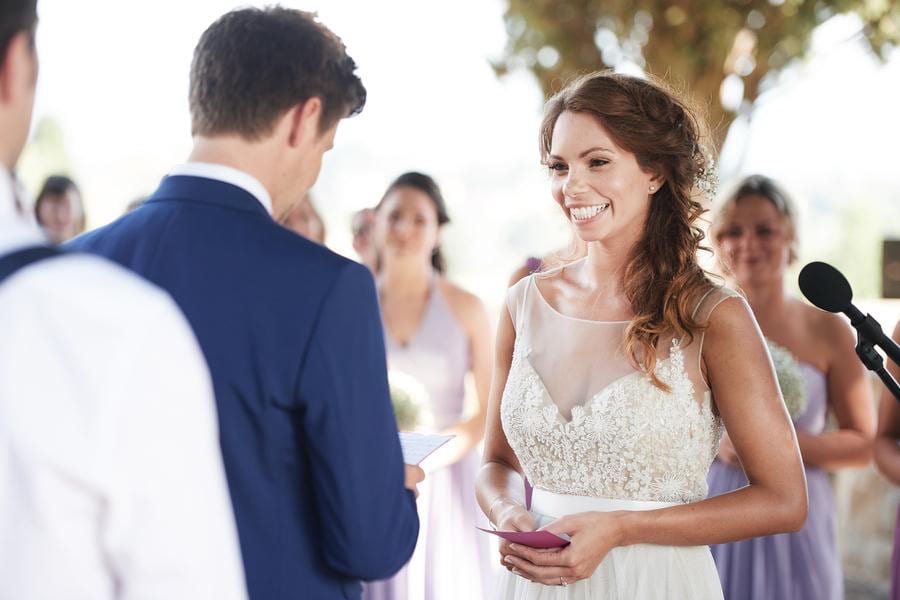 Italian Wedding Readings that Reflect You
There are many Italian ceremony readings to choose from, and it can be overwhelming to narrow down the choices. Each one has a different meaning, and we advise that you determine the reading based on the values and wishes you and your partner have towards a future life together. Each couple is unique, and specific readings chosen should reflect that. Whether you have a symbolic, religious, or civil ceremony, we have some suggestions for Italian wedding readings for you!
An example of a symbolic reading would be Elliott Arnold's Blessing Of The Apache
"Now you will feel no rain, for each of you will be shelter for the other. Now you will feel no cold, for each of you will be warmth to the other. Now there will be no loneliness, for each of you will be companion to the other. Now you are two persons, but there is only one life before you. May beauty surround you both in the journey ahead and through all the years, May happiness be your companion and your days together be good and long upon the earth."
This reading focuses on support, commitment, and uniting as one as you begin your journey as husband and wife. It strongly emphasizes the future and is based on the promises made to one another. "Blessing of the Apache" is such a lovely reading and has immense depth and meaning behind it.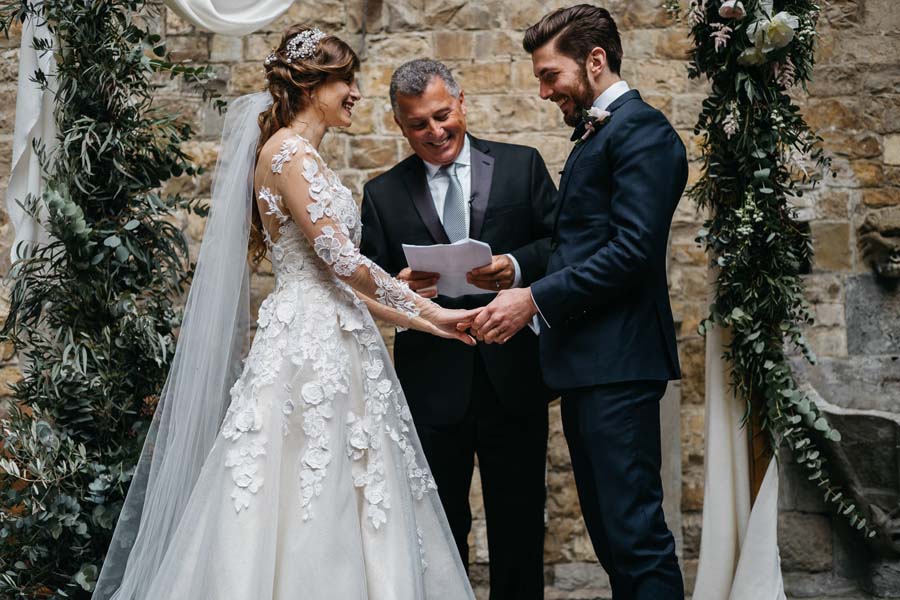 Readings in Civil Ceremonies
Civil ceremonies did not traditionally have readings. However, we have found that they add personal touches to the wedding day that are unique to each couple. Therefore, we can request them for your ceremony based on your desires and visions for their weddings.
One of our favourites is Sonnet XVII, written by Pablo Neruda.
"I do not love you as if you were salt-rose, or topaz, or the arrow of carnations the fire shoots off. I love you as certain dark things are to be loved, in secret between the shadow and the soul. I love you as the plant that never blooms but carries in itself the light of hidden flowers' thanks to your love a certain solid fragrance, risen from the earth, lives darkly in my body. I love you without knowing how, or when, or from where. I love you straightforwardly, without complexities or pride; so love you because I know no other way than this: where I does not exist, nor you, so close that your hand on my chest is my hand, so close that your eyes close as I fall asleep."
Neruda's words highlight the intensity of love between two individuals as they take their hands in marriage. Its immense level of description makes this the perfect reading for your Italian wedding ceremony, and the depth of the meaning behind it is never-ending.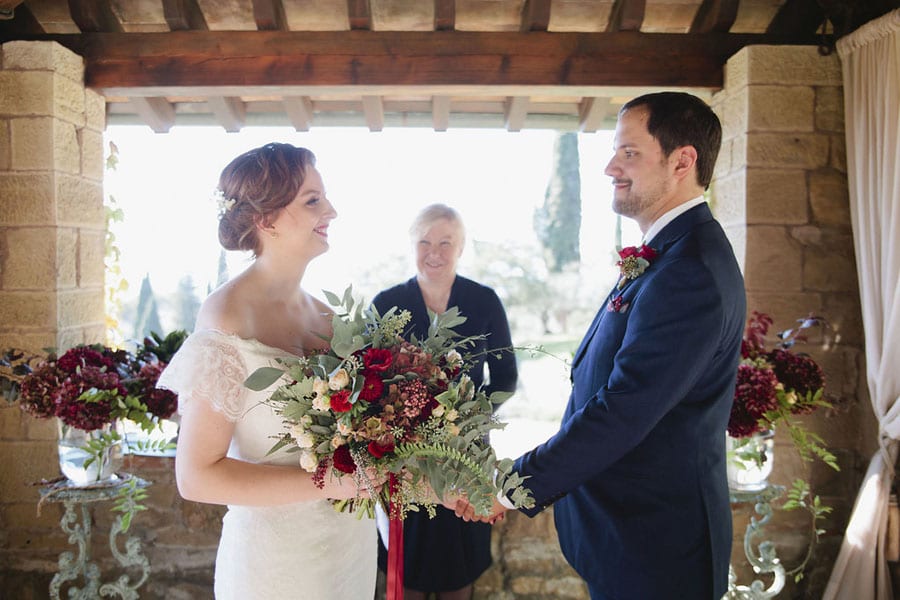 Religious Italian Wedding Readings
Since the Italian region is primarily Catholic, we decided to share a specific mass reading commonly used in traditional Catholic weddings. Hence, you can understand what an Italian wedding reading typically, but not limitedly, entails.
Let us Pray. Lord, in your love you have given us this Eucharist to unite us with one another and with you. As you have made (bride) an (groom) one in this sacrament of marriage, so now make them one in love for each other. We ask this through Christ Our Lord. Amen.
This religious reading not only focuses on conjoined faith but mutually uniting with your beliefs as one. This short yet highly sentimental and meaningful reading is a perfect addition to any religious ceremony.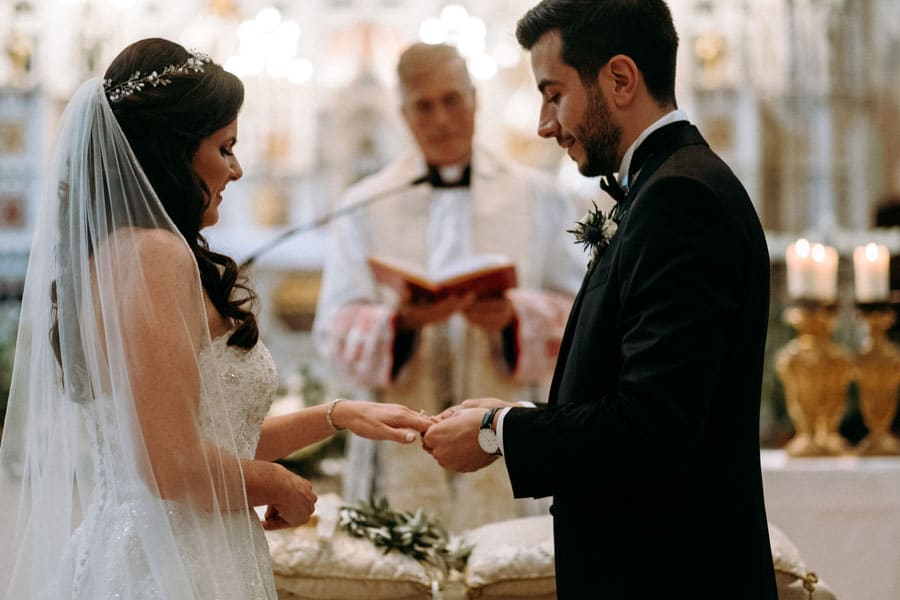 Overall, the extent of Italian wedding readings are virtually endless, and it can be a bit overwhelming for you and your partner to narrow down the choices for your special day. However, at the end of the day, if the reading fits your overall wishes, values, and commitment to each other's future, then it is perfect!