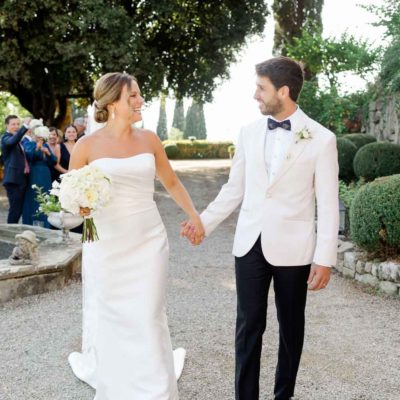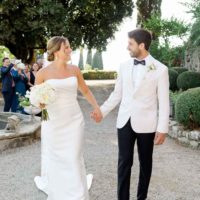 The BEST Wedding Planning Team
The best decision we made was hiring Daniela and her team. I feel so grateful and lucky to have had the opportunity to work with The Tuscan Wedding.
A few areas that make them exceptional:
– Their attention to detail!! They make your dream wedding come true and it turns out above and beyond.
– Their responsiveness. You never have to worry about Daniela and her team responding.
– Their connections. They work with the best vendors and bring only the kindest, most talented team to the table.
– The day of… they are SO hands on the day of that you as the bride or groom do not have to worry at all. They handle everything. I was able to relax and enjoy my entire wedding weekend because of her team.
If you want to plan a wedding in Italy, the first and best decision you will make is hiring The Tuscan Wedding.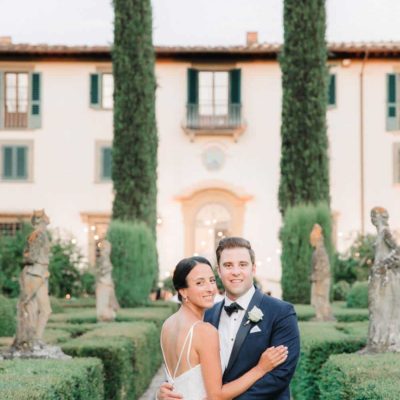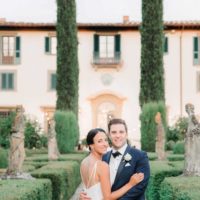 The Best Wedding Planners Out There!
Where do I even begin? The Tuscan Wedding, Daniela and Viola are the BEST in the wedding planning game, period, full stop! We had our heart set on getting married in Florence and Daniela and her team were able to make our dreams come true and exceed every expectation we could have ever had!
From the beginning, we knew it was fate and had to work with The Tuscan Wedding. We had met with a number of different Wedding Planners in Tuscany and from the first interaction with Daniela, we knew her and her team were the ones. On that first call alone, she spent nearly 2 hours with us, discussing the vision for our wedding, location options and logistics of how a wedding in Italy differs from those in the States. From then on, we were joined at the hip working on our wedding over the course of the next year. Daniela and Viola were so responsive, you would think you were the only wedding they were working on. Being a Type A Bride, The Tuscan Wedding exceeded my expectations of keeping organized across the process and helping us make the right decisions to fit our vision. We even had the chance to spend a whirlwind of a day together touring locations, meeting florists and caterers and getting to know the whole team.
Our Wedding Day was ABSOLUTE perfection. When I say the entire weekend of events was more than one could ever imagine or dream for, Daniela and her team really blew us all away. She helped us pick the best in their fields to make the vision come to life. From the flowers, to the food, to the unique dance floor set-up – I was stunned. Each and everyone of our friends and family is asking for a reunion so we can do it all again and that it was the most memorable wedding they had ever been to.
Daniela, Viola and the rest of the Tuscan Wedding Team – thank you from the bottom of our hearts! It was an absolute pleasure working with you and I already miss our daily emails but we will be back to plan our reunion wedding.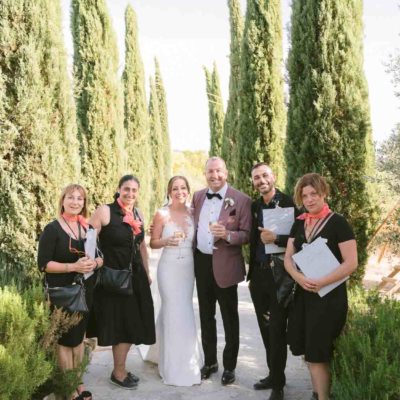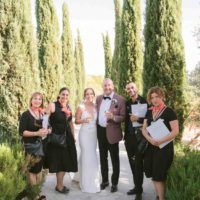 Amazing wedding thanks to Daniela and her team!
We had our dream wedding thanks completely to Daniela and the Tuscan Wedding team. It was so much better than we ever imagined it would be. Daniela and Viola's attention to every detail allowed us to have a wedding without a flaw. They were courteous, friendly, responsive and had the best suggestions for us when we were unsure which way to go. During our wedding weekend they were there every minute to ensure my wife and I didn't have to worry about anything. That allowed us to enjoy the entire weekend with our guests. We can't say enough about Daniela and the entire Tuscan Wedding team. We feel like we not only found the perfect wedding planners but we found some new great friends! Thank you Tuscan wedding team. We love you!!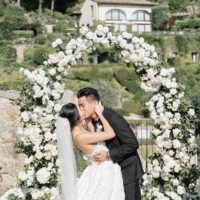 Wedding superheroes
Daniela and her team are our superheroes and we owe it all to them for helping us pull off a perfect wedding. We wouldn't have been able to plan our dream destination wedding in Italy without them. I can't even begin to express how incredible they are. They are masters at staying on top of it, consistently communicating on a daily basis, and easing the inevitable wedding planning stress. They truly went above and beyond for us and trust me, we really needed it considering the huge nightmare we faced. To preface, both my husband and I have crazy work schedules. When he proposed, I knew I needed a find, a planner I could trust to completely take the reigns. However, 4 months before our wedding, the worst possible thing happened. Our planner stopped responding to us, and we quickly learned what we thought was being taken care of… wasn't AT ALL. I desperately scrambled to find a new planner and fortunately our florist, Flowers Living, referred us to The Tuscan Wedding. Daniela heard about our struggles and scheduled a meeting with us the same week. The call went so well that my fiancé and I signed the contract and sent a deposit the day after.
Daniela was so gracious and patient with us. Our wedding was only 10% done when we started working with The Tuscan Wedding. There was no time to waste, so I really needed to figure out what I wanted and make decisions quickly and confidently. As an interior designer myself, I had very specific requests, ideas, and concepts that I knew was not an easy task for Daniela and her amazing team. But they did not disappoint one bit! Everything I conveyed to Daniela, she made a reality. In many ways, I'm so happy that we dealt with that unfortunate ordeal, because we wouldn't have gotten the opportunity to work with Daniela and The Tuscan Wedding team.
Daniela is not only an exceptional wedding planner; she is also so incredibly genuine and kind. We believe we gained a new friend for a lifetime and hope we'll get together every time we visit Florence. She exceeded our expectations with her level of professionalism, vast vendor contacts, high touch communication, and genuine dedication to making her clients happy. To sum it all up, I say this with utmost confidence that The Tuscan Wedding is the best in Italy!! I only wish we had found them earlier; working with them for only 4 months was so bittersweet. Our wedding was everything we could've asked for and more. We feel so lucky to have had such a special celebration to call our wedding. The unforgettable memories we made with our friends and family are truly priceless and we will cherish them forever.
Thank you so much to Daniela and the entire Tuscan Wedding team!!!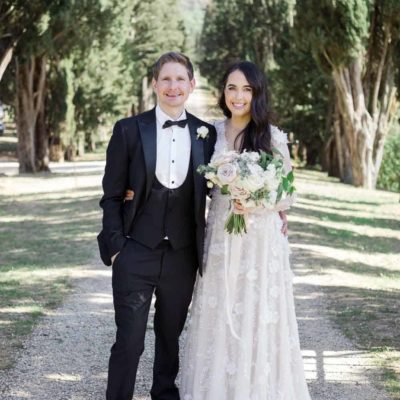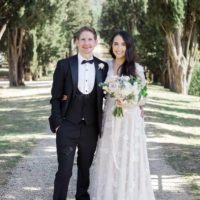 The best wedding planner in Tuscany!
I cannot recommend Daniela and The Tuscan Wedding team enough. If you are reading this review, look no further because you have found the best planner. I researched wedding planners for weeks, interviewed six and knew instantly that Daniela was the best in the business. I cannot emphasize enough just how amazing the team are and how wonderful they made our wedding planning experience.
Daniela went above and beyond to make our dream a reality and always found solutions for our ideas/vision. Every guest said it was the best weekend of their lives, which is genuinely down to Daniela and her fantastic team.
What I loved about working with Daniela was that she was direct and to the point and would quickly let me know if something wasn't possible or if there was a better way to approach it, and that is precisely what I wanted in a planning planner.
The team is incredibly responsive (honestly, I do not know how they do it). Daniela was very generous with her time, joining (sometimes lengthy!) calls whenever we needed to discuss outstanding items.
The team were incredible throughout the 1.5 years of planning and even more impressive on the day, with 4 of the team in attendance running an incredibly efficient operation. Our wedding would not have been even half as fabulous without this team, and I will never be able to thank them enough for all their hard work and creativity!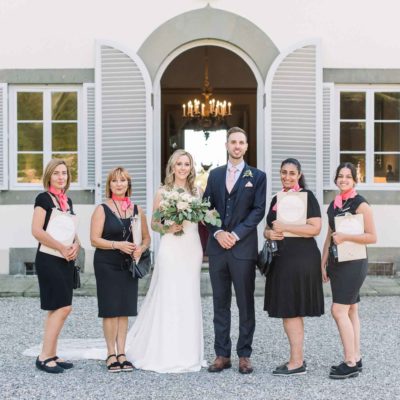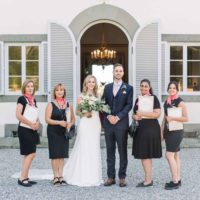 The Tuscan Wedding team is simply fantastic.
They were always incredibly responsive, professional and constantly went above and beyond to help us fulfill our dream wedding. They also helped us navigate our way through the global pandemic, we had to push our wedding 3 times and each time they comforted us and guided us every step of the way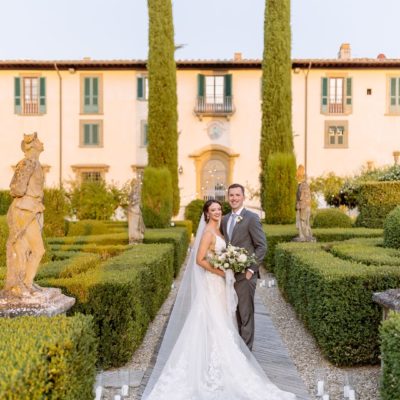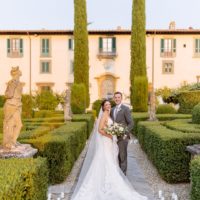 Daniela and the entire staff at The Tuscan Wedding were amazing from the beginning of the process till the very end of the wedding night!
They were honest about what we could afford with our budget, what we should spend more time/money on and suggested great details that we wouldn't have thought of!
The vendor choices they have us were fantastic and they always provided options in our budget and a few that had exceptional services to consider.
They made our wedding the perfect experience, even with covid.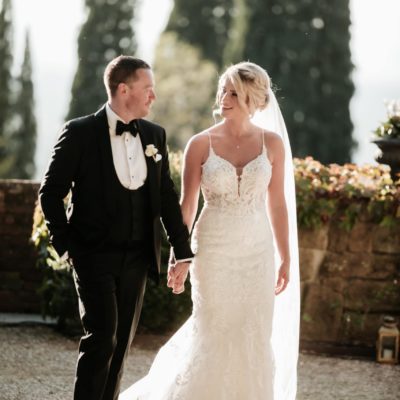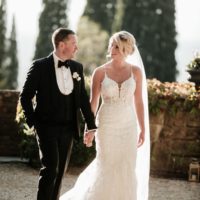 Supreme Wedding Planners!
We couldn't have asked for better Wedding Planners for our dream wedding day! Daniela, Viola and the rest of the team were fantastic throughout the whole planning process. Unprecedented Covid times meant that they spent longer planning with us than we all had initially anticipated, but they went above and beyond what we could have ever dreamed of and remained professional and empathetic throughout the difficult times. We couldn't have had our day without them.
On the day, everything went perfectly; the venue and the details were all stunning, and the team's organisational skills really came through. A large number of guests have commented that the day was incredible and it's the best wedding they have ever been to! Daniela has an incredible eye for detail, and we fully trusted her judgement on every decision we made – I'm so glad we did because there was nothing I would have changed.
If you're looking for a beautiful, glorious, exciting Tuscan wedding, then this is the team you should be talking to. I'm just sad I no longer have a wedding to plan with them! However thanks to the team, I now have the memories (and pictures!) of our dream day.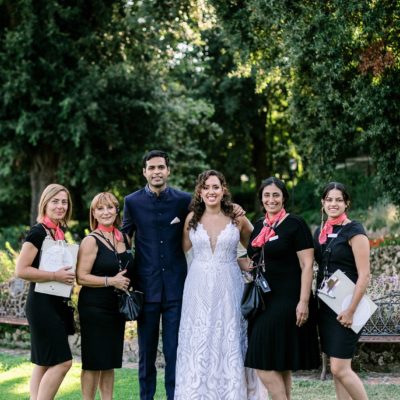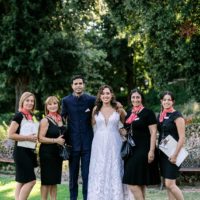 Fantastic Team Creating Incredible Weddings
Daniela, Viola, and the whole team at The Tuscan Wedding blew us away for our 3 days, multi-cultural wedding. They created an unforgettable experience during an unprecedented time and did it with ease and grace. Our friends and family constantly comment that they want to go back and do it all again, and my husband and I couldn't agree more. We were so lucky to find this amazing group of women because our wedding would not have been the same without them. Despite the uncertainty of planning a wedding in 2021, Daniela and the team were always encouraging, organized, supportive, and realistic while making sure that everything would turn out the way we had dreamed. The planning process was a joy (I actually really miss it!) and the days of the wedding went so smoothly. Even with a notoriously-behind-schedule family, my husband and I were never stressed out because we knew Daniela and the team had everything under control. We can't thank the team enough and highly recommend them to anyone dreaming of a gorgeous wedding.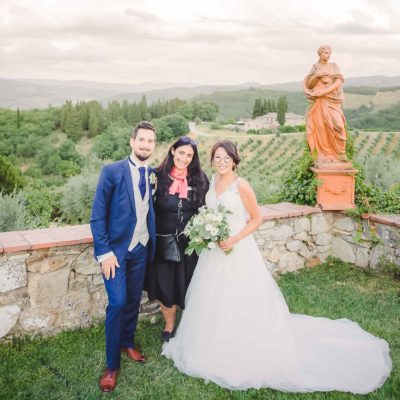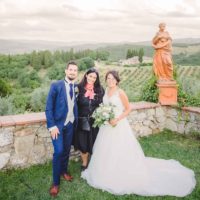 How to start? I was expecting this moment for a while. I didn't know that this moment would be in Tuscany (one of my favorite places in the world) with two kids. In addition, we didn't think that the COVID would still be there. The circumstances to organize a wedding were specifically tough.
However, we spent an unforgettable moment from the first day to the end. We also received complimentary feedback from our guests. Our guests enjoyed the beauty of the wedding place, loved food and wine provided during the wedding reception and extra events and were astonished by the decoration etc. A special thanks to Daniela and her team. Their professionalism, sense of detail, the organization make this moment exceptional. They managed to contain my emotions on many occasions. We were very demanding and the team made itself very available (through hundreds of emails, conference calls and onsight visits). We are more than happy about the outcome of our wedding. Thanks again for making this moment unforgettable.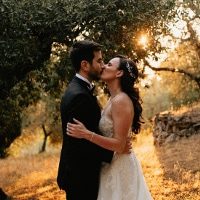 We really enjoyed working with The Tuscany Wedding company! The team is very responsive, professional, and experienced. Our wedding day was better than we imagined and our guests couldn't have enjoyed it more. The whole team was amazing on the day organized and everything was so seamless. Daniela made sure everything was exactly to plan and we had nothing to worry about and Camilla is such a calming and kind person.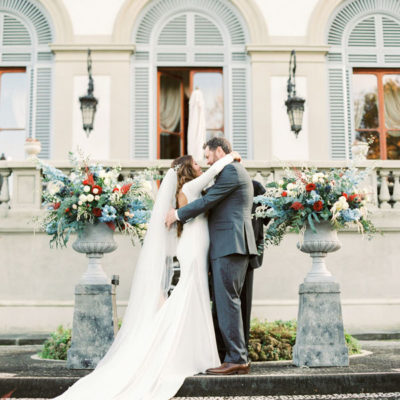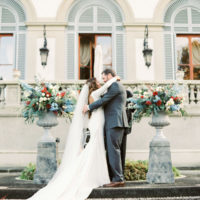 When in doubt — please contact The Tuscan Wedding! My husband and I eloped to Florence in 2019. Daniela and Camilla immediately coordinated our conference call and explained every detail of the wedding planning stages. Planning remotely, both ladies put my mind at ease. They were very professional, organized and thoughtful in bringing up suggestions which they thought would make our special day a stand out! I cannot express how thankful I am that I reached out to them. John and I will remember our special day for the rest of our lives and we are very grateful in your contribution. We recently celebrated our wedding reception back in the States and all our guests complimented our beautiful yet intimate affair!
I wish you all the best in the years to come! Thank you for making our dream come true and more!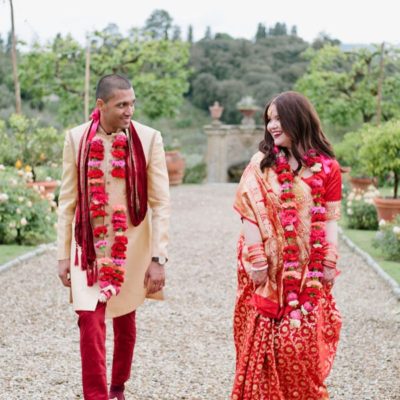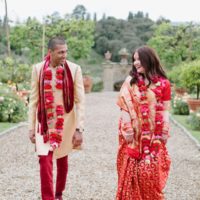 An Amazing Wedding Planning Team
Daniela, Viola, and the rest of the team at the Tuscan Wedding made our two day multicultural wedding in May of 2019 unforgettable. Daniela's clearly well-established relationships with the wedding vendors helped to provide a flexible approach to planning our wedding from the US. We visited Italy once in September of 2018 before our wedding. Daniela had arranged food tastings with potential caterers, a site visit to the venue, a visit out to the florist, and a hair and makeup trial over the course of a weekend trip. That visit ran like a well oiled machine. During any wedding planning process, there are ups and downs. Were we over budget? Yes. Have I met many couples that didn't go over budget? No. We wouldn't change a thing- Daniela was excellent at making the time difference work for us and helped us navigate some of the differences in the wedding industry in Italy vs the US. When it came to the wedding itself, I couldn't possibly have enough good things to say. The weekend was flawless- if there were hiccups we never felt it. Daniela and her team were so on top of everything, and it was more beautiful and seamless than we ever imagined that it could be. We love the Tuscan Wedding team, and cannot recommend them enough.
The Tuscan Wedding went above and beyond all expectations!
Daniela and Viola are two of the most professional, knowledgeable and patient women I've had the pleasure of meeting and working with. Coming from an event execution background myself I understand the high level of stress, preparation and organisation it takes to pull off a successful event. Hiring them was the BEST decision / money spent on the wedding, because they made sure everything was not just perfect, but also made me enjoy my own day, without any worries. Many times when they gave me other recommendations it always turned out 100% better, because they know what they are doing. All our guests were super impressed by their organisation, the way they would guide /inform our guests and their demeanour, always ready to help and jump in if needed. They filtered through over probably 300+ emails over the last year, and helped transform it into reality, something which went completely beyond anything I hoped to dream of. It was the perfect wedding, they were the perfect team for the job, and I would 100% vouch for the Tuscan Wedding Team, it will be the best money you will ever invest into your wedding.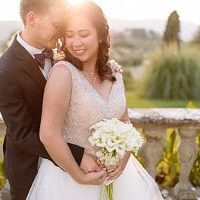 The Tuscan Wedding far exceeded our wildest dreams. Everyone who attended our wedding is still raving about how beautiful, organized, and fun our wedding was.
Daniela and Francesca are extremely responsive and hand held us through the entire process. We gave them an idea of how we wanted our wedding to look and feel and they provided multiple options within our budget. Additionally, they created a timeline of deliverables for us which led to a stress free wedding (believe it!). We 100% would recommend them to any couple who is looking to get married.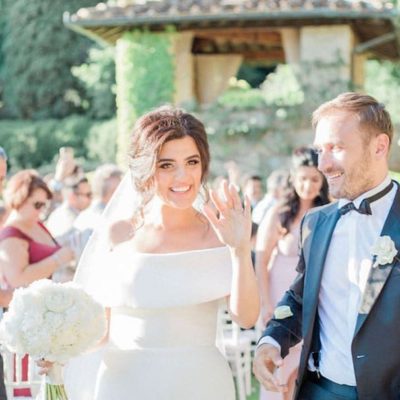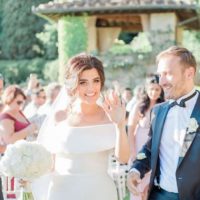 We reached out to these lovely ladies and within less than 24 hours they came back to us. We wanted to get married within 8 months of being engaged and the ladies agreed. They were detailed driven, professional, attentive, they really listened to what we wanted our dream wedding to be liked and that was reflected on our wedding day. They were with us every step of the way and helped us beyond anything we can imagine. Our day was so magical and we could not do it without these ladies. For couples who want a team to look into every detail, to help them and guide them throughout the process then we suggest The Tuscan Wedding. We love them and will forever be grateful.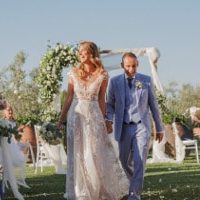 Excellent wedding with various choices , gentle and responsible staff, high qualities services and furnitures.
We were pleased to discover the lovely and very professional Tuscan wedding group!! They are amazing and great collaborators with extremely high experience and great ideas !! Daniela and Viola were always here for us!!! Our wedding was magic !! We thank sincerely for everything!!!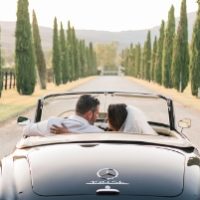 The Tuscan Wedding team made our Wedding dream a reality. Choosing them was the best decision we ever made. Absolutely the best!
Dear Daniela, Deciding to work with you was truly the best decision we made in this whole wedding planning adventure. I was looking back, and it is unbelievable how many emails we exchanged over the last year. I will without a doubt miss emailing you and the team, specifically Viola. Your commitment went above and beyond Ronald and I, it extended to making sure my family and friends were also taken care of. We were very happy with all of our vendors Thank you so so much again. We are SO pleased with your work, and once again I will miss speaking with you after all this time. It was always a real pleasure. Let's keep in touch!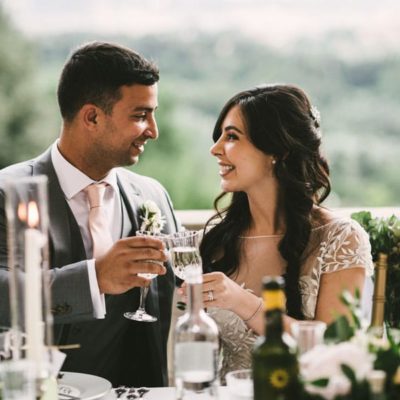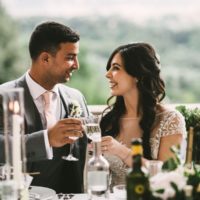 If your looking to have a destination wedding in Italy, this is the true dream team!!!
When Daniel and I discussed the idea of a beautiful Tuscan wedding, it all seemed too good to be true. After google search and a few Skype calls with other wedding planners, we reached out to Daniela who quickly scheduled a call with us. We immediately knew this was our girl. Daniela is so well spoken, very knowledgeable and without us explaining every detail with her she knew exactly what we wanted! Before we knew it The Tuscan wedding team created the perfect unimaginable weekend for us and all of our guests.
We took a trip prior to the wedding to meet Daniela and view the venue. After spending a few short days with her she felt like extended family and we found that still to be true several months later.
The day of the wedding Daniela, Viola, Camila and Francesca took care of everything ! They made the day so easy for us that we enjoyed every minute of celebrating, eating and dancing.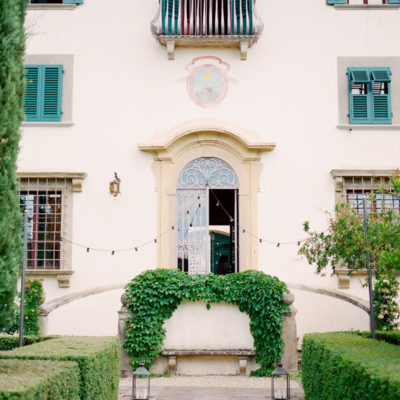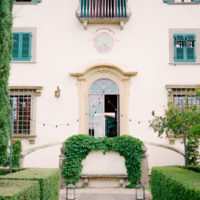 Daniella, Camilla and team did an amazing job planning a special birthday party for my wife. We couldn't have been happier with everything from the location, to the food, to the decorations and flowers. It all turned out magical. I loved being able to spend the evening celebrating while Camilla and team took care of everything else. It will be an event that our family and friends will always remember and cherish.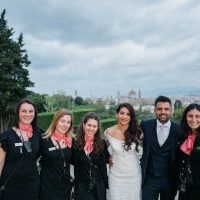 There are no words to describe how amazing Daniela and her team are. From the first phone call with Daniela we could sense her professionalism and love for what she does.
Throughout the wedding preps Daniela and her team took away the stress of planning a wedding and the more we worked with her the more we realised we could just trust her to make our visualisation a reality.
Daniela thought of everything from the finer details of heel stoppers for the guests as our ceremony was on the grass to the bigger things like table decorations and entertainment. Her team are incredible, organised, attentive, responsive and they don't miss thing.
Daniela's English is amazing the very fact that she has worked in the UK in the past ensured she understood what us British are like, she always went that step further in making things happen as they should.
Not only did we notice how "on point" and organised the whole team were but so did every guest. We had guests coming up to us saying just how great the whole team were in making our day so special, anyone remember the episode from Friends when Monica was pheobe's wedding planner and was decked out with the headset and clipboard, imagine that but a whole team of just that.
The only drawback I can think of is that Daniela doesn't do weddings in the UK, because if she did I would recommend her to everyone I know.
Thank you so so much, it's not easy planning weddings and Daniela made this day absolutely amazing for us. I'm convinced she can control the weather too (she is one powerful lady!). Choose Daniela you won't regret it.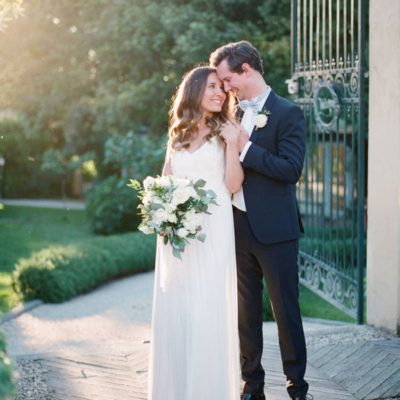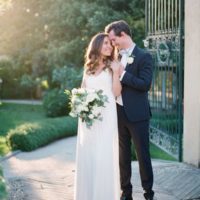 We are still living on cloud 9 after our right out of pinterest wedding. Daniela, Camilla and the entire team made sure we had the most amazing day. Never during the planning had we a stressful moment, as Daniela was on top of things, even though we had our occasional discussions. Thanks to their professional care, we could enjoy our special day to the fullest, without the need to think about any of the practical stuff. The entire day they worked their magic with the most amazing results. Our guests are still raving about the dreamy setting, wonderful food and amazing party. Thank you, Tuscan Wedding, for making this the best day of our lives. We will cherish it forever!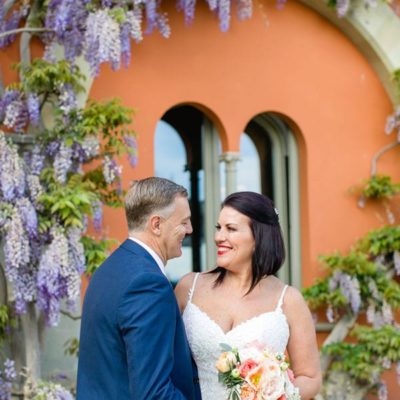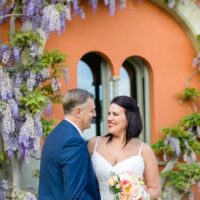 The Tuscan Wedding Team were excellent – from our very first contact to after our wedding day. They were always professional, extremely knowledgeable, and supportive – helping us with anything and everything – even things we didn't know we needed help with! They offered a great option of vendors to work with (all excellent quality), were clear and honest in their communication around timing and costs, and ensured they held everyone accountable for delivering an exceptional experience for us. Thank you – I would absolutely recommend this team.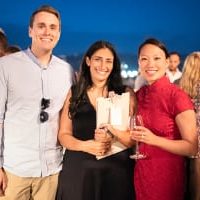 We worked with Daniela and her team for our wedding in September 2018. Her and her team were very helpful and had great contacts. Despite us living in London we were able to contact them via Skype and email easily. They are committed to providing you with the best wedding experience and genuinely care about your wedding day. We would definitely recommend them as wedding planners, they are efficient, professional and excellent to work with!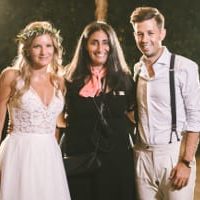 Great, thank you very much. We just came back from our prehoneymoon in Altoadige and we are flashed silently. We had a great wedding weekend at Villa Le Piazole and you (and your team) did a great job on saturday! THANK YOU!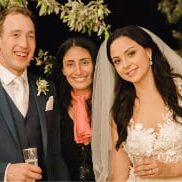 Thank you so much for all your work over the past 18 months. You were so wonderful to work with and made planning a wedding so fun and stress free.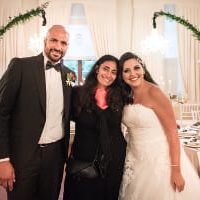 I am finally on my way to the honeymoon and wanted to send this email earlier but leaving and wrapping it up in italy took some time:)
I would just like to thank you, your team, dj matteo, natalie, and everyone who made my wedding day amazing. I am beyond thankful that I chose the tuscan wedding to trust blindly due to the fact i saw nothing with my own two eyes until I arrived in Artimino!
Words can not describe how happy I was and how the outcome was 1000 times better than expected. The flowers, chandeliers, the welcome drinks ( everyone went crazy over), even the cake and food, not one thing was a disappointment, not one! You put your heart into your job and I really felt that I hade to let you know
And dj matteo, thank you so much for following the list I sent you and for playing the arabic music, all of it you are really the best!
Daniela, I just wanted to thank you in this email from me and Alain, that we are so grateful for all your hard work and I would recommend you to anyone because you really made my wedding day, the best day ever.
We love you and hope to send you business soon just like Melissa sent me to you.
If there is any place I can write a testimonial, I am more than happy to, please let me know.
I am always available on whats app and hope to see you soon one day again
Daniela and her team are absolutely amazing!! My husband and my family had an amazing time at our wedding and everyone said that our wedding planners were wonderful. Words can't express how grateful we all are that we chose The Tuscan Wedding to plan our destination wedding, everything was an dream come true! Best day of our lives! Daniela is AMAZING!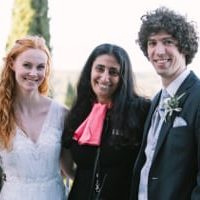 Daniela and her team in The Tuscan Wedding were so helpful in planning our wedding in Tuscany this September. Communication was quick and effective, and they found solutions for all of the minor obstacles we faced. They went above and beyond to make sure we were comfortable with everything, and helped us create the wedding of our dreams by getting in touch with the right vendors and helping us plan all the personal details that made it perfect for us. Most importantly, on our big day they took care of everything so that we could just relax and enjoy ourselves. Worth every penny. Thank you so much!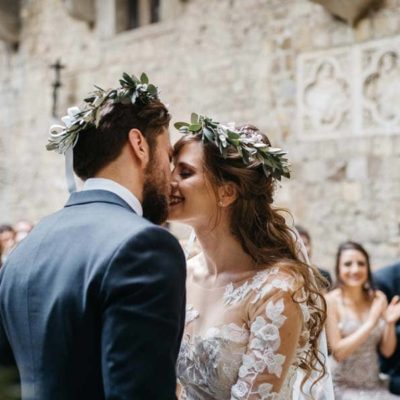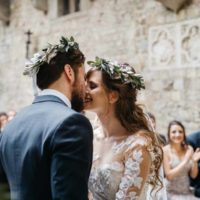 Daniela and her team helped us put together a day we will never forget! They were extremely accommodating with our weird requests – from breaking plates for our greek first dance, to serving home-made amaro to our guests! Every vendor they proposed was of top-notch quality and she made communication with them very smooth and easy.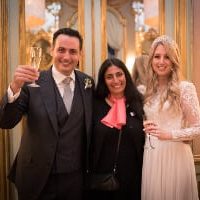 Thank you so much for all your hard work and that of your team on the day. It was perfect.
Since we've been back I've taken a new job and we've been renovating again so…no time to catch our breath!
Thanks so much again. You and your team made the day a dream ️
Sarah's Parents – Sarah & Ravi
We got back from Tuscany very late on Tuesday and the last four days have been very hectic so my apologies for this email two weeks on.
Veera and I are still pinching ourselves. Was it a dream or did it really happen!
The wedding was absolutely fabulous. I feel words are inadequate to describe the two day celebration. Almost everything (come to that later) was perfect and we have to thank you for your commitment, organisation and loving care. We couldn't have done it without you. You promised a fantastic wedding and you delivered, you are AMAZING. Also please pass on our thanks to your team, Viola and all the others who were like guardian angels taking care of the guests at all the venues. Give them our love and appreciation.
La Loggia was perfect, the setting, the food and the drinks. It set the bar very high and the question was how could it get any better, and it did! Ognissanti was such a wonderful Church for our gorgeous bridal couple and I will never forget walking down the aisle. The stunning Church, the elegant decorations, Don Luciano Marchetti and the singer made the service extraordinary. It was in my mind the best wedding service I have ever attended and lots of guests agreed with my sentiments. Then the piece de resistance, Castello Di Vincigliata, so so beautiful and the reception will live long in all our memories. As Sarah so aptly put it "I wish I was a guest as this wedding". We cannot stop talking about "Sarah and Ravi's fairy tale wedding"
Thank you so very much for all that you did, your patience, your calm demeanour and for encouraging us and for being by our sides at every stage and for every challenge that we faced.
We will contact you in a separate email to discuss the only supplier that we felt did not live up to expectations.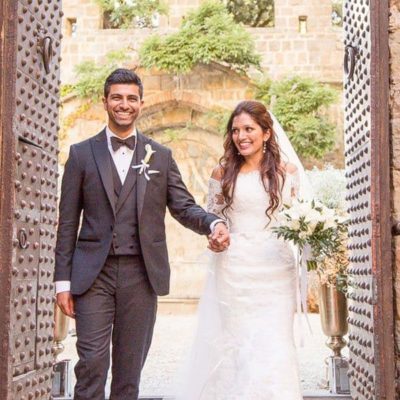 I just wanted to drop you a line to say thank you for all of your hard work over the past 9 months or so , which resulted in us having the best weekend of our lives and hosting what our guests have said to be the best wedding they have ever been to. It was really was a magical wedding, and so much of that is down to you.
Ravi and I, and my parents, cannot stop talking about how incredible and special our wedding weekend was. The event at Loggia was the perfect start to the wedding festivities, the views of Florence were breathtaking and the food (and drink) at La Loggia were delicious. In particular, please thank Enea and his staff from us. They were so helpful throughout, especially the barmen when they realised I didn't have any prosecco!
After La Loggia, I think most people didn't think it was possible to exceed the hospitality and beauty of the venue, but of course, the church and Vincigliata managed to do just that! The church service was so memorable and Don Luciano's words will stay with us – we have been to many weddings and his Homily was the best I have ever heard. A lot of our guests wrote on our advice coasters afterwards that their only advice would be to do what Don Luciano said.  Christina's performance in the church was also excellent – she has a beautiful voice and it was so suited to the church setting.
Again, I am still not sure how you managed to secure that church for our wedding but we are very grateful as everything about it was perfect.
Vincigliata was breathtaking. Flowers Living and the light designer did a fantastic job; the whole venue looked so elegant. It was so satisfying to see how all of our decisions regarding the table plan, setting and flowers came together on the day! Please also thank Alma Project and DJ Leo. DJ Leo mixed the playlist we sent to him so well and that ensured the dance floor was full the whole night. Nobody wanted to leave!
I know that you and your team were kept very busy dealing with logistics, timings and unexpected things on the day and we thank you for managing it all so seamlessly. A few guests have remarked on how impressed they were by how efficiently they were ushered on to buses and transported to the castle.
There has been so much hard work that has been put into making our wedding as incredible as it was. Daniela, as Ravi said in his speech, I'm sure we have not been easy to deal with at times but you persisted and your attention to detail has been invaluable throughout. From the start, we have really appreciated the time you gave us, particularly the late night conference calls to fit in with our working hours. Certain aspects such as the paperwork and Italian bureaucracy have not been easy, but you have always managed to find a solution. You have been a pleasure to work with throughout and we will miss having you there to keep us in line! I might even miss the many hours we spent talking about flowers – i'm sure you will too 
  (quite ironic that after all that we left our bouquets at the hotel!).  You are a real perfectionist and we are so thankful we chose you as our wedding planner as you never failed to meet our exacting standards. Ravi takes great delight in reminding me on a near daily basis how he 'found' you.
Viola, huge thanks to you too. You have been very thorough and efficient throughout – we have never met you but we were always impressed by your quick responses and regular chasers. I don't think I have ever mentioned it to you but I was also very impressed with how good your written English is.
I actually feel very sad that our wedding is over, but we have so many amazing memories to look back on fondly, and lots of messages from our guests reminding of us how magical the whole weekend was. Daniela you were right, our wedding was one that people will be talking about for a very long time. We will certainly remember it for the rest of our lives – I've already suggested to Ravi that we renew our vows (next year preferably) and do the same all over again!
Thank you very much to both of you. We can't wait to see Neda's photos which we will of course share with you.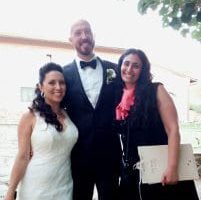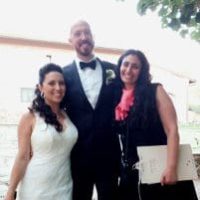 Thank you so much for all of your help and patience over the last 6 months, from planning to execution. We really enjoyed working with you, Viola, and Brianna throughout, although I'm pretty sure that we were not the easiest couple you have ever worked with. 
Our friends and family keep telling us that the wedding day was perfect. Everyone had a great time and was amazed by how smoothly things went. We obviously owe a lot of that to you and your team. Please pass a thank you along to Viola and Brianna, as well.
Again, thanks for making our wedding week so special. You guys went above and beyond what we expected, and we are so glad to have had your support!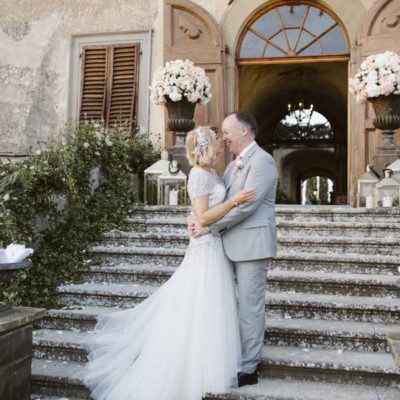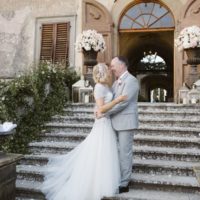 Can Ken and I also please just take the time to say thank you to you and the Viola and the team at the Tuscan Wedding.  You are all truly amazing and we have absolutely loved working with you over the past year.
Our wedding and holiday week was truly, truly special  and we will remember every second of it so fondly and with treasured memories. Nothing could have been any better and we can't thank you enough for working so closely with us to achieve such fantastic experiences both for ourselves and our friends and family. They had a truly special, amazing time and were absolutely blown away by the incredible experiences and the beauty of Tuscany and they have all said how amazing you were too and how lovely it was to meet you!
We are certain that we will stay in touch and very much look forward to seeing  you again. Just to reiterate, we would love you to come over and stay with us in the UK and be our guests, and we can show you some of the Liverpool hospitality! You are always welcome.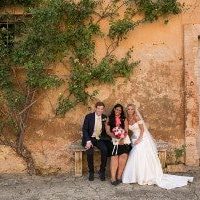 Just a rather belated message to say thank you so much for all your patience and organisational skills in relation to Adam and Pru's wedding weekend.  It was a magical 4 days for us, and just flew smoothly by for the guests,  but I know involved a lot of very hard work and diplomatic skills on your part to bring off.  The tension over the weather issue, the overnight storm, the gradual clearing of the skies on Friday morning and the perfect weather thereafter all added to the magic ( but I am sure to the stress for you!)
I am sure such occasions are 'routine' for you but it was an unforgettable experience for us.  I can speak for all our family and guests when I say that.  Brava!
We had a fantastic experience with Daniela, Viola and the team. We had a reasonably tight budget, and the Tuscan Wedding team made everything work perfectly. The food, setting, organisation were all amazing. Helped me to deal with suppliers/payment issues after the day was done even though their work was done. Highly recommended.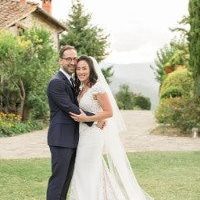 The Tuscan Wedding Team are the best. If you are planning to do a destination wedding in Tuscany, you must work with them. They are communicative, transparent, direct and also very helpful from the day we booked them even after the wedding. I interviewed over a dozen wedding planners 1 year in advance and am so happy that we chose The Tuscan Wedding. They were able to help organize everything from catering, the timeline, hair stylists, wedding favors, last minute transportation issues, dinners…. We had rain the week of our wedding (luckily not during the ceremony or our events) but they were able to make last arrangements just in case (from moving the reception outdoor to indoor, umbrellas for guests, etc)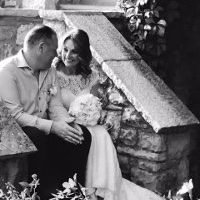 As we are about to leave Europe and travel home, we thought we would share this photo with you. We had such a wonderful day and we are forever grateful for you and your team.
We don't have any photos yet, but Gareth took this on the day and hope you like it.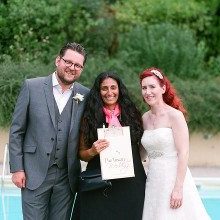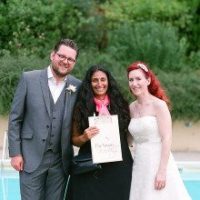 I wanted to send all of you a little thank you email for making it incredible day and stay and of course without you this wouldn't have happened the way it did. You have really happy couple here.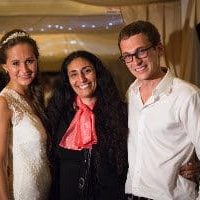 We just came back from our honey moon fool of impressions.
I want thank you one more time for all help and support and making our day so special and unforgettable! All our guest were very happy and keep on telling that we had the most beautiful wedding.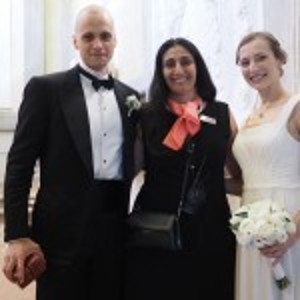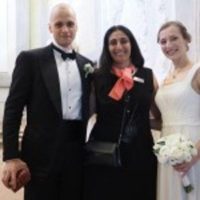 It is my pleasure to recommend Daniela as an exceptional professional who made the most important day in our family life perfect! I do not believe there is anything she cannot do with regard to your wedding arrangements. From flowers to exclusive wedding venue, from transport to legal matters – she can do everything for you.
Apart from being great organizer Daniela is an outstanding personality! She is very intelligent lady who always puts your interest and preferences first. As my wife said: "After all we have been through Daniela has become like a member of our family".  We are happy to recommend Daniela and her dedicated team to all those who want to make their wedding day ideal.
Daniela, thank you for making our hearts smile!
Thank you so very much for all your hard work. I hope it hasn't been too much of an ordeal for you – though I know Luke must be your most difficult groom to date
We had a great time at Ryan and Regina wedding, it was spectacular and I am sure it exceeded their expectations.
I just wanted to take a minute, Daniela, to thank you for all of your hard work, patience and coordination throughout the past week for Ryan and Regina's wedding. It was truly a memorable experience ~ one we will treasure for years to come.
I'd like to personally thank you for assisting me with all of the coordination with the musicians and for transportation to where I needed to be and when. God bless you! You had a lot of folks pulling on you and a million moving parts and you navigated all beautifully. Please accept my thanks and gratitude.
I wanted to send all of you a little thank you email for making it an incredible day and stay and of course, without you this wouldn't have happened the way it did. You have really happy couple here :))))
Un sogno che diventato realtà. Era quello che volevo. Una festa perfetta!
A dream wedding was what I always hoped for. Was just a perfect wedding!
Eric and I just wanted to send you a quick thank you for everything. The wedding was a HUGE success, fairy tale wedding for sure!
Our guests couldn't stop talking about how amazing it was. Everything ran unbelievable smooth, you were incredible.
It was a wonderful and an unforgettable event, much of it because of you. Forget about the change, or else buy something that will remind you of us.
Surely we'll be in touch and we'll share with you the pictures and the video when we'll have it. We all love you and are very much grateful for what you did for us.
We are from the UK and had been in Italy some years before and fell in love with Tuscany. So when we decided to get married Tuscany was top of our list. We started off going to local UK travel experts, and quickly decided the best way for us was to hire an Italian expert. Apart from all the traditional wedding planning, there is a significant amount of legal logistics to get through. We found Daniela via google and selected her and one other Italian wedding planner. When we spoke to her we just knew she was the right person, with excellent English and great experience in wedding planning. Daniela organised everything from the legal side in Italy to organising the wedding ceremony, and the celebration dinner with the hotel we had selected. She organised the wedding celebrant, 2 photographers (who were all fantastic), flowers, coach travel to/from the airport, table decorations. The list just goes on, Some of the things that were available but we decided not to do were, string quartet, visiting hair dresser and make up artist. She was always efficient and friendly and occasionally bossy to make us get on with stuff! She had a flexibility on the amount of time she spent versus the budget we tried in vain to stick to.
If you are looking for someone to organise your wedding in Tuscany and the surrounding cities of Florence or Siena look no further than Daniela.
Watch out though you will need to plan around 6 months in advance if you want to remain as stress free as possible, and there is a lot of chasing around the English legal framework which you will just have to accept.
Thank you Daniela and team for the most beautiful Tuscan wedding
I don't think I have the proper words to express exactly how grateful I am to Daniela and her staff for organizing the most amazing and beautiful
wedding. I was researching wedding planners in Tuscany a few months ago and came across Daniela. Once I spoke to her I immediately knew I wanted to work with her. I had spoken to other planners but no one else seemed to have her passion, her vision and personable skills. She was always quick
to respond to emails or calls. She was always very patient, quick to resolve any issues, she knew what I wanted before I even needed to say it.
I even made things difficult for her and requested to have an Indian welcome dinner. And she took on the challenge and organized an amazing
evening with Indian dancers, Indian music and colourful, ethnic decorations. The wedding itself was something out of this world. People are still commenting how it was the best wedding they had ever been to. Her ideas and attention to detail are incredible. I cannot tell you enough how absolutely happy I was with Daniela and her team. I would recommend them without hesitation!!
It was not easy for us, living thousands of miles away, to leave our daughter's wedding organisation to a wedding planner. In addition to the distance problem due to work commitment we could, you could come to Italy only once and only for two days.
It is not easy to handle such a situation when you consider that there may be a thousand obstacles: the rooms to the guests, the confetti, the flowers, the ceremony, the location, the room … our luck was choosing DANIELA. … as a wedding planner of the whole event with great skills, elegance and charm were able to meet all our desires transforming our daughter's wedding party into an unforgettable, magical and enchanted moment that will remain engraved in everyone heart forever.
v v v positive review for best wedding planner in the world!
Somehow writing this finalises the whole fabulous week which I never wanted to end! What can I say? Thank you so so much Daniela for organising the MOST perfect wedding, everything was truly wonderful, the venue, the lighting, the food, the flowers, just everything and then you managed to get the marque at the last moment! You truly are amazing!! We have had so many letters saying how spectacular the whole day was with everyone having their favourite moments! Emily and Shahram are still on their honeymoon in Mozambique and will be back on Tuesday so next weekend we will be reminiscing and looking at photographs of our perfect week in Florence! I hope you are well – you are probably busy with your next wedding and have forgotten us!! But don't! We really would love to,stay in touch and remember, if you are ever in London to get in touch with us! I have, incidentally, rated you! Thank you again Daniela (words just don't seem enough!) for such a dream week and the most glorious wedding ever!! Stay in touch!
We think is God that send you to us. We felt very secured to have you there to sort everything out for us. Thank you for all you have done for us!
Love on the Tennis Court , The Tuscan Wedding David and I would like to say a big thank you to Daniela from "The Tuscan Wedding" for all the hard work and effort she put into planning our perfect wedding just outside of Florence. We have just returned one week ago and family and friends are still commenting on what a beautiful location and day it was. When we decided to get married in Italy the biggest problem which we were going to face was where could we hold the wedding and also bring in a weeks family holiday for 60 guests. That is where Daniela came into the picture, of all of the event/ wedding planners she was the person which gave us the largest variety of locations, responded quickly during communications and also had a positive attitude and passion for her job. There was no doubting that I could not have organised such a perfect week without the help of Daniela, from communicating with the hotel to organise the multiple apartments needed and organising a welcome BBQ when the guests arrived. She was also responsible for putting me in touch with the florist ( who was fantastic ), organising the musicians, lighting technicians, translators and officials. She managed the set-up and running of the day well and the whole event went smoothy. Finally we wish you luck with your future weddings, yet we are sure they will all be a success as ours was !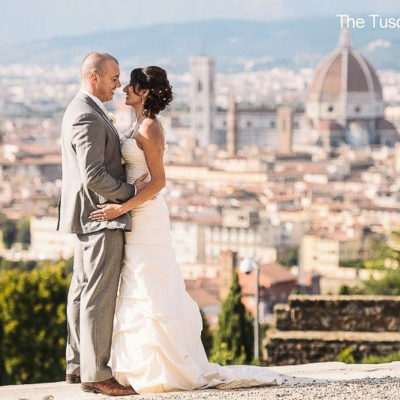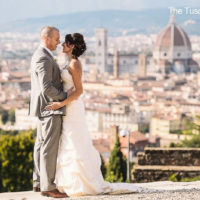 Getting married in Florence , The Tuscan Wedding Thank you Daniela for how hard you worked arranging our amazing wedding. The day was spectacular and the level of professionalism of you and your colleagues was out of this world. We Would recommend to anyone………… perfect
Every time I think back about Saturday evening, I want to cry from joy. It was a fabulous evening and an amazing gift! I'm still filled with excitement!" Stefano: During the event, I had this great feeling because I worked with people who love their job. They had a great balance between being professional and friendly. The attention to detail was the main reason the evening was a success. Everything was coordinated to our liking and taste. They are professional, knowledgeable and passionate about what they do. They also have the great ability to convey a feeling of control/order to their clients.
I need to say a massive thank you to our wedding Planner Daniela, she has made our lives so much easier during the whole planning of our wedding, over the many emails and Skype calls we have really got to know her and for those of you that haven't spoken to her this isn't just a job for her it's a passion, so again thank you for everything you have done, we really couldn't have done it without you! Daniela was fantastic in planning our special day, I would definitely recommend her to anybody that I know that wish to get married in Italy.
Perfect Wedding in Florence!, The Tuscan Wedding Our choice to get married in Italy was completely random. I am originally Japanese and my husband British. When we got engaged earlier last year we both knew we wanted to have our wedding in Tokyo, the city where we met and fell in love almost 7 years ago. So when we visited Tokyo one March weekend and found a gorgeous place, we were immediately ready to start negotiating for the price – only that's when the horrible 3.11 earthquake hit the city as well.
With ongoing uncertainty in the area we eventually decided not to have our wedding in Tokyo and so we went from almost choosing a place to starting from scratch. I searched through the internet and found 5 wedding planners. Through exchange of emails and interviews over Skype with all 5 of them, I knew I found the one perfect planner when I spoke with Daniela from The Tuscan Wedding. Dani had it all. As a non Italian speaking person who knows nothing about wedding planning or the country, I knew I couldn't afford to have any language barriers that may lead into "lost in translation". Whilst I found many occasions of 'lost in translation' and also found myself repeating my questions and answers to others I had spoken to, I had no issues with Dani. Dani speaks perfect English, lived in the UK for a long time and also travelled around the world. What she also has beyond her language skills is also her ability to see what people want before they know it themselves! So for someone who is indecisive (me) and sometimes gets easily overwhelmed by many choices to make (also me!) she was perfect. From April to May, Dani and I exchanged emails every other day and spoke every weekend. We needed to find a location and we only had 5 months till the wedding day! In May I decided to fly from NYC to Florence to actually look at 5~6 locations we narrowed down to. Before I knew it I was on a plane to Italy (my husband couldn't come with me due to work), met up with Dani and spent the next 3 days going from one location to another, food tasting, wine tasting, negotiating and trying hair dressers.
Villa Cora was the second venue we visited on my second day in Florence. I knew this was the place the minute we drove into the parking lot. It had been under construction for nearly 4 years and it had just re-opened in early 2011. This place was by far one of the most beautiful villas I had ever seen – luxurious, new, modern yet classic, great attention to detail, excellent level of service and the food and wine they let us taste was to die for. Above all Villa Cora is located up in the hill surrounded by green but at the same time only 10 minute drive from the city center so I knew this would be very convenient for guests who were flying in from all over the world. My best friend who came with me said she saw spark in my eyes the minute I had walked into the villa. I knew it right there and then! After successfully deciding on the venue and going back to NYC with relief, Dani and I continued to speak every other weekend to decide on other details. Looking back at all the discussions we had, I realize what I appreciated the most about Dani was her ability to put me back on the right track. With so many choices to make and so much information to go through, there were times I was making decisions I never would have if I were in a less overwhelming state. Dani helped me rationalize and reminded me of all the things I was originally looking for, and even gave me advises that always started like this "honey, knowing you and knowing what you like, I would suggest….." And this was coming from a lady who knew me for a few months! But Dani really did know it all. Late September came quickly. Our wedding was a small, cozy yet intimate one with only about 35 people. We had guests with 8 different nationalities flying in from 7 different countries – a truly international wedding! Our wish was one and only – that we get to spend as much quality time as possible with our closest friends and family, and not just the few hours on the wedding day. Dani helped me arrange dinner for both families to get together, coordinated a full day wine tour and a cocktail party the night before the wedding. The actual wedding day was absolutely amazing. No issues, no drama, everyone was on time, everything went as planned and everyone had a great time. We were extremely lucky with the weather too – warm, sunny and dry, much like the mid summer weather as opposed to late September one. Ceremony took place at 4pm in the Villa Cora garden with a string quartet that Dani arranged for playing in the background. My other best friend's mother sang Ave Maria beautifully, and our niece threw flower petals and origamis on the isle.
After the ceremony the guests were guided to the roof top of the main building and were taken surprise by the 360 panoramic view of the whole of Florence! Food and wine at the reception was perfect. Speeches were made, people danced and lots of alcohol consumed. The event finished around 3 in the morning with bunch of us jumping into the swimming pool! It was one fabulous day. There were a few last minute demands that were made to Dani (e.g. asking for microphone to be arranged in the garden the day before!) but she made them all happen and delivered on time. After the wedding they also put together video clips that she had originally planned to use for their web advertisement and made it especially as a gift for us. It was so nicely and professionally done – with music and poems playing in the background! We are truly grateful of the work Dani and her staff have put together to make this happen. We could not have asked for better wedding planner – so personal, thoughtful and are all about making the day a perfect one for the bride and the groom. If anyone is ever interested in getting married in Florence, we highly recommend The Tuscan Wedding!!
Wedding with a stunning view , The Tuscan Wedding Thank you for your help! The view, the flowers, and most of all the food everything it's perfect. Our wedding was so special, exactly what I wanted, relaxed and with our family and friend celebrating us. Mum: Thank you so much for all your help! The flower, the food and most of all the view it's behond our expectaction! We did not immagine all this…….
Thank to our wedding planner for making this day possible! Thank you for everything!
Wedding in a Vineyard, The Tuscan Wedding We fall in love the first time we met; we decided in few months that we wanted to get married as soon as possible. We wanted a dream destination! We considered few locations but at the end we decided to get married in Florence. We rented a villa in the country side and decided to have a holiday with our closest friends and family. I was completely lost at the beginning so many things to worry about and really not sure where to begin. So I started to look for a wedding planner that could look after everything. After few weeks of research I found a wonderful comment about a previous couple that got married with Daniela. I spoke to other wedding planners previously, but on our first call I got the sensation that they understood exactly what I wanted and what I was looking for! I wanted a simple and relaxed wedding; I am doing a very busy and stressful job and did not want to get stressed about organizing a wedding. In the past I have seen friends get very stressed. I arrived at my wedding very exited but relaxed. I only had to choose what I like, and not have to worry about anything. I would like to express my immense gratitude to Events Angels! They not only organized our weddings also took care of all other aspect of the organization, from the booking the accommodation to the activities of our guest and transportation baby sitter dog sitter! I highly recommend The Tuscan Wedding Staff, I don't think our wedding could be been like this without you! PS I recommend to get married in Italy if you are a wine and food lovers  !
Thank You!, The Tuscan Wedding I don't know where to start but thank you so much!!! I could honestly not have asked or dreamt of anything more perfect!!! We had the best time and it was without a doubt the best day of our lives. Everything was perfect! And I can't thank you enough for making it happen! I really enjoyed your help and support and most of all your suggestions. Lots and lots of love.
My Dream Wedding in Tuscany!, The Tuscan Wedding I used The Tuscan Wedding for my Wedding in Italy. I am French and Alex is British, so we did not want to get married in either of these countries, we wanted an alternative one. We choose Tuscany as it is one of the most beautiful places I have ever seen. Everything was so special! I got to my wedding of course very excited but calm and relaxed, I knew Daniela had taken care of everything. They surprised me, with many things that were beyond what I was expecting. They made my dream come true! The decoration was stunning, complimenting my perfect location, a wonderful castle and I looked beautiful (other people said that to me I had a light designer that made the place so special and romantic!! I was a bit nervous about the flowers because I wanted to have something very particular, I couldn't have asked for more. I felt like a princess. Thank you Daniela for supporting me over this, choosing you was the best decision of my life!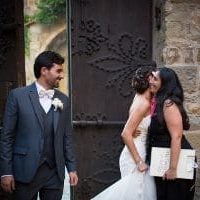 Honestly, I know this sounds cliche, but I couldn't have had a better experience with this planning team. From the first time I talked to her on Skype, I felt like Daniela is the type of person I've known my whole life. I was comfortable enough with her to tell her when something wasn't right and to hug her and cry when I saw her on my wedding day.
Throughout the process, I looked forward to my chats with Dani as well as my visits with her in Italy (we went twice before the actual wedding, to pick the venue and then again for arrangements) and each time I was with her, it was like being with family. Sometimes weddings can be stressful and when things get down to the wire, panic can set in, but she always eased my mind and always got it right.
One of the things I kept saying throughout the wedding is that if I simply showed Daniela 3 pictures of what we wanted, she could have planned the most beautiful wedding without our help at all. She is the type of person who just has a feeling about things and really works to get to know you. She has an innate intuition about putting your personality into what she envisions for your day.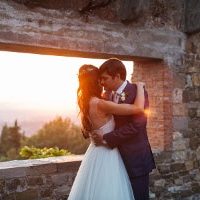 Thank you again for the most wonderful wedding experience! It truly was the best week of Tims and my life! Working with The Tuscan Wedding team was stress free and amazing. Please feel free to use my name as a reference for any American brides if needed.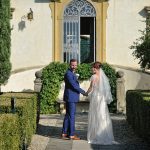 Just wanted to say again how grateful we are for everything you did for us.
The evening was perfect. Absolutely loved it and everyone thought it was just magical. Thanks so much for pulling it all together. Can't wait to see the pictures now.
When we decided to get married in Italy we had no idea how to go about planning a wedding abroad but thankfully we stumbled across The Tuscan Wedding and the most amazing wedding planner ever, Daniela.
From the very first response from Daniela, it was clear that our wedding was in safe hands. Daniela and her team provide a first class service, they are the most professional and knowledgeable wedding planners you could ever wish to plan your big day!
Daniela really gets to know you as a couple, understands your vision for your day and works so hard to make your dreams come true.
Even when we faced delays with our paperwork, Daniela never gave up and worked tirelessly to ensure everything was in order for our big day…..and what a day it was! I cannot describe how pleased we were with our wedding in Florence, it was the stuff that only dreams are made of but was made a reality thanks to The Tuscan Wedding!
We both wanted to say a massive thank you to you and your team for bringing our ideas to life! Yesterday was magical, more than we could have ever hoped for and we could never have achieved that without you. We are honestly so grateful to you, it was the perfect day from start to finish.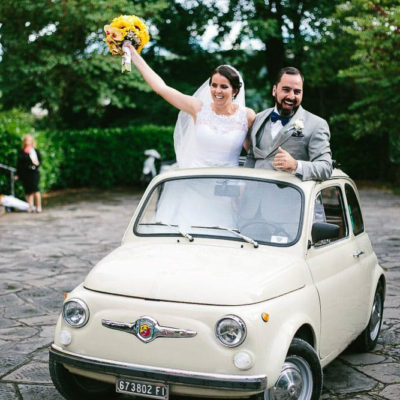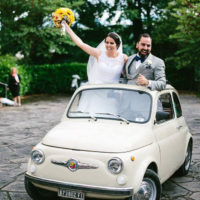 As I said before, the wedding was amazing, it was like a fairy tale. Everyone was very flattered with the privilege to had participated in that moment.
Thanks a lot and hope to meet again soon.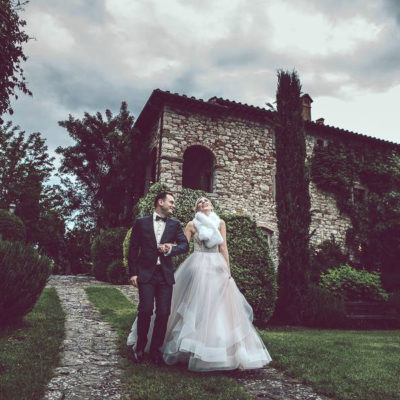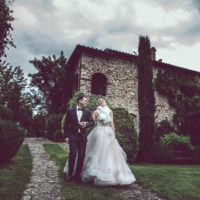 Daniela is a fantastic wedding coordinator. Her network of suppliers means you always find what you are looking for. Her great reputation with her suppliers means they are always willing to help out and make things happen. But perhaps the greatest part of working with Daniela is seeing that this is not just a job for her. To Daniela, you are not just another client… you are someone looking to make their Big Day memorable and perfect. She gets that! She works from the heart and never minds a long call or long email or tires from requests. She found us the most stunning venue that we and later our guests fell in love with. On the day, Daniela and her team made sure everything ran like clockwork… everything was so well organised. We wish Daniela and The Tuscan Wedding all the success in the world for their hard work.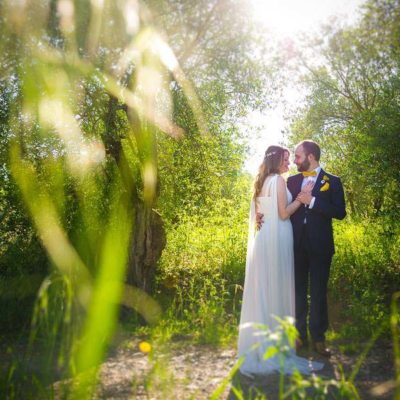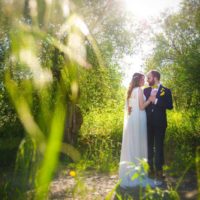 We are enjoying our short honeymoon in Tuscany. We wanted to let you know how people were amazed by the work done for our wedding by you and your team. The wedding was perfect thank you very much again.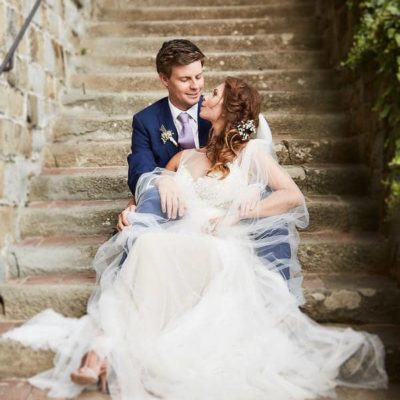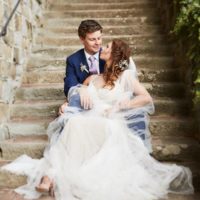 "I must have skyped with 10 wedding planners before landing on Daniela at The Tuscan wedding. As soon as we started talking I knew instantly that this was the wedding planner for me! Daniela and her team made our special day so absolutely perfect! I didn't have to worry about a single thing, and things just seemed to run seamlessly (thanks to Daniela and her team behind the scenes). I would absolutely 100% recommend The Tuscan Wedding. I have to say I will miss working with Daniela now that the wedding is over! Maybe we will have to come back to plan our 10-year celebration! Thank you so much, you truly made our wedding day so perfect."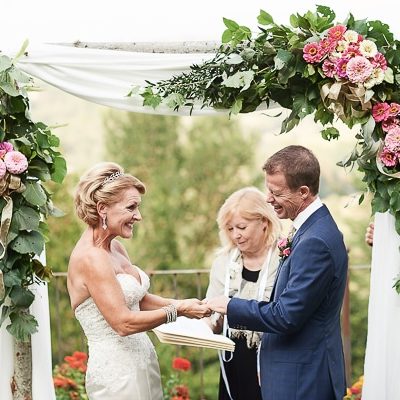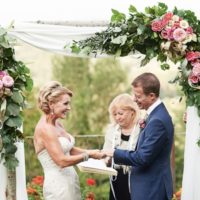 Thank you for this past year through e-mail, Skype working through every detail of our special day today.
We so appreciate all your work and know this day will be absolutely perfect.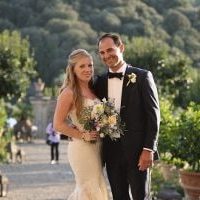 I truly cannot thank you enough for your hard work and patience with me. I know I'm not the easiest person to deal with but I did something right because you did a better job with our wedding than ever imagined possible. You are amazing and if there is anything I can do to help your marketing efforts, if you ever need me to be a referral, etc, please do not hesitate. I will be in touch when I'm back in Florence, but I promise not to make you miss important dinners with your boyfriend to see me.
When my Fiancé and I came up with the crazy idea to get married while on vacation in Italy, we knew we could not do it without a really supportive, very skilled, professional, who knew the area. As it turned out, Daniela and her team were exactly who we needed. We reached out to her with a simple email, something like: "Hey we have this crazy idea and a very short time frame to plan it. Could you help us?" She was on the phone with us within 45 minutes! No one else got back to us for days. Daniela understands the importance of being there for the people she works with. She is super responsive with emails and calls. After just a few conversations about what we wanted and how we wanted to have our big day she had a vision of what she needed to do to make all the details come to life. Within days Daniela found us an INCREDIBLE venue that fit all of our needs. As we were heading off for a five weeks vacation she was hard at work planning our wedding. While we tripped around Europe she was in contact via email us, or skype, to see what we thought about the different aspects of our wedding. She did all the work and made what can be a really stressfull process easy for us. When we arrived in Italy, a few days before our family, she was there. She arranged and accompanied us to appointments with the Italian government. Made sure we had all the proper documents to make it official. She translated for us whenever we needed it! When she showed us the venue, we realized the photos didn't do it justice. It was stunning! Our wedding was a blur and Daniela was always there making things happen. Giving us the time and space to enjoy every moment while being close enough to anticipate our every need. When most people are working on Italian time, Daniela is working overtime. She perfectly bridges that gap between the relaxed laid back Italian culture and the urgency of a wedding. She is always smiling and supportive. She was the perfect planner for our destination wedding!
Absolutely amazing. I can't say enough great things about this event planning company. Yolanda Felton and I could not have been happier.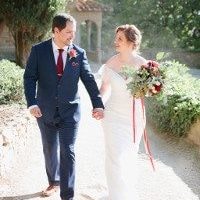 My husband and I had a wonderful experience working with Daniela and her team. The most important thing for us was a stress-free elopement. Daniela went above and beyond making our wedding day absolutely perfect. We will forever be grateful to her for all she has done.
Many thanks!