Sara & Charles
We recently had the pleasure of planning Sara & Charles' Italian garden wedding. They choose Villa Medicea di Lilliano as their dream venue, set in the heart of the rolling hills of Tuscany. It is undoubtedly a magnificent villa with rows of cypress trees, olive groves and vineyards surrounding every corner.
We planned each and every detail for them to ensure they were left with a lifetime of memories.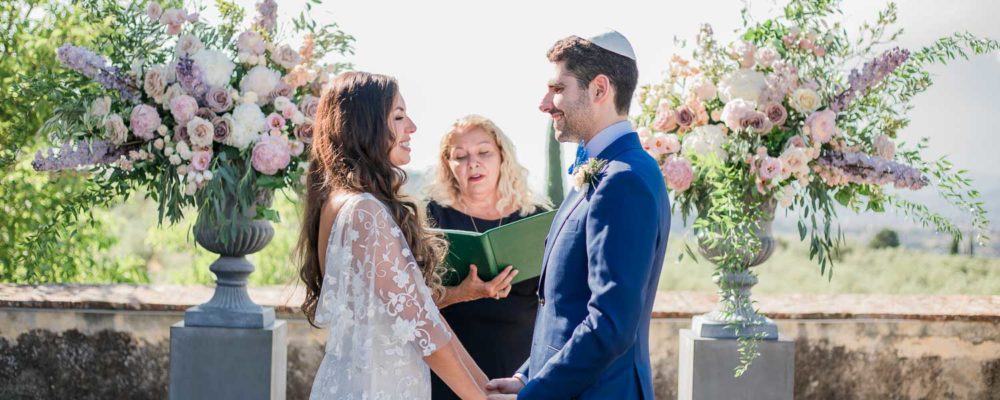 An Italian Garden Wedding
Sara and Charles wanted a symbolic Jewish ceremony to share with their friends and family. Incorporating Charles' faith with Sara's dream to get married outside, The Tuscan wedding was able to create an Italian garden wedding ceremony that celebrated their love in a way that was unique to them.
The bride wore a stunning lace gown with long flowing sleeves, perfect for the summer sun and outdoor setting. By the same token, the groom opted for a gorgeous royal blue suit and bow tie. It was the perfect complement to this luxury garden ceremony.
Stunning Italian Florals
Flowers Living created the florals for Sara and Charles' Italian garden wedding. Using soft pink peonies and roses as the centrepieces brought a romantic feel to the day. Finally, touches of olive and eucalyptus highlight the natural beauty of Italian foliage.
Without a doubt, a highlight was the beautiful Italian urns overflowing with florals that filled the ceremony. These sumptuous displays created aisle masterpieces.
At the reception, long table runners adorned the tables. Made with olive branches, eucalyptus and roses, so they were a perfect touch for an Italian garden wedding.
A Garden Reception
The reception was held in one of Villa Medicea di Lilliano stunning gardens. The villa is especially perfect for a garden wedding, with rows of roses and fruit trees that fill the air with delicate scents as you say your wedding vows.
The guests enjoyed local produce from the region all planned and created by Galateo Ricevimenti. Firstly, eggplant ravioli and Bufala mozzarella were the delicate starters. Followed by a delicate sea bass or beef fillet coupled with sage potatoes and asparagus. Finally, all dressed with local extra virgin olive oil. It was a spectacular Italian meal for them and their guests.
Finally, as the perfect finish to their day, they celebrated with a beautiful Mille Feuille wedding cake, filled with Chantilly cream, chocolate and decorated with strawberries on top. This masterpiece was made fresh in front of guests for a show-stopping finale to a fantastic wedding breakfast. This Italian tradition certainly left their guests in awe.
The evening drew to a close with a surprise was a grand firework display that finished Sara & Charles' day to perfection. Sara & Charles left Italy with a lifetime of memories of an especially beautiful Italian wedding.
About Villa Medicea di Lilliano
Villa Medicea di Lilliano is a truly unique and beautiful Italian wedding venue. Set just outside of Florence, it offers the best of both worlds. Only 15 minutes from the city, but surrounded by the rolling hills of the Chianti countryside.
Furthermore, it is a full working vineyard and produces luxury wines, that can be enjoyed on your wedding day.
Sara and Charles took advantage of the venue's outdoor ceremony space for their Italian garden wedding. Therefore, they said their vows overlooking the vineyards and hills of Tuscany on the roof terrace. It is undeniably a picture-perfect space with ancient Tuscan walls and Cypress trees.
Having established itself as one of Italy's top 10 wedding venues, Villa Medicea di Lilliano can cater from beautiful small elopements to large grand weddings.
All in the Details for an Italian Garden Wedding
You can expect all the details to be cared for when you hire a truly exceptional wedding planning company like The Tuscan Wedding. From the bespoke invitations to a welcome party the night before the wedding, they can make every wish come to life.
We would love to thank Sara and Charles for allowing us to plan such a spectacular occasion. It was an especially beautiful day and a pleasure to work with you both.
If you want to know more about how we can bring your wedding day to life, get in touch.