Elizabeth & Michael
When you're planning a catholic wedding, there is no better place in the world than the heart of the catholic church, Italy. Therefore, Elizabeth and Micheal wanted to have a luxury catholic wedding in Florence followed by a fabulous garden reception that celebrated their faith and love for one another.
As specialists in grand catholic ceremonies in Italy, Elizabeth and Micahel reached out to The Tuscan Wedding to bring their dreams to life. From organising the church to the details adorning the cake, we planned everything to perfection for this beautiful couple.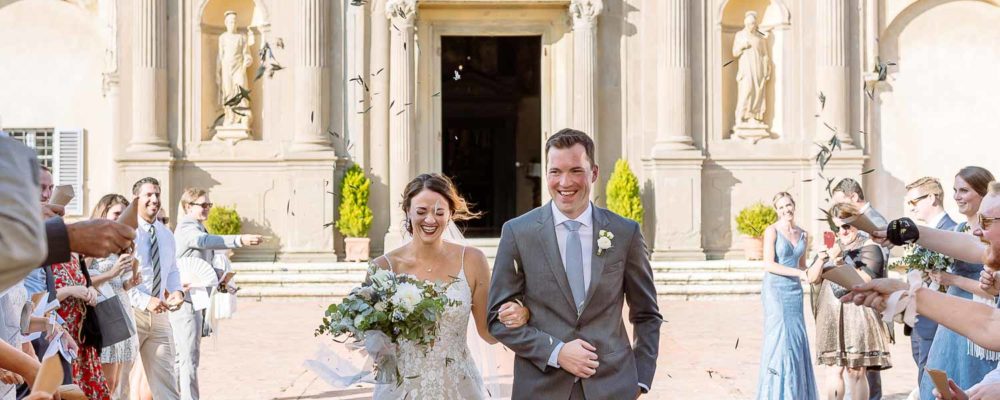 A grand Catholic wedding in Italy
A traditional Catholic wedding in Italy is truly magical. One of our favourite churches is Chiesa Della Certosa in Bologna, where Elizabeth & Michael said their romantic promise to one another. Classic Italian art adorns the church, dating back to the 16th century. Furthermore, one of its show-stopping features is the grand altar, where you will kneel to say your vows and commit your love to god and one another.
The bride wore a stunning tulle dress with gorgeous lace detailing. It married tradition with modern style. Together with the cathedral lace veil that added grandeur and beauty, all eyes were on the bride as she walked down the aisle. Finally, standing next to her were her bridesmaids in dusty blue dresses that reflected the romance of the ceremony.
Dinner in the Secret Garden
The couple held their reception at Villa Le Pizzole. Aberrazioni Cromatiche Photography took beautiful portraits of them on the stunning grounds at the Villa. Meanwhile, their guests enjoyed aperitifs & cocktails served from a classic Fiat 500.
Afterwards, they celebrated with friends and family in the secret gardens for their wedding breakfast.
The menu was a sumptuous dinner filled with traditional Italian flavours.
Firstly, starting with a Zucchini Risotto with Taleggio DOP, followed by Fresh Orecchiette and Aubergine Pesto for their pasta course.
After that, they choose a Roast Guinea Fowl stuffed with Veal & Chiodini Mushrooms. Additionally, served with green beans and Celeriac.
An evening reception after a catholic wedding in Italy
Villa Le Pizzole is the perfect secluded setting for a luxury wedding. As the sun sets over the Tuscan countryside, you can enjoy refreshments, cut your cake and dance the night away. Without a doubt, Elizabeth and Michael enjoyed a reception full of love and laughter with friends and family after their catholic wedding in Italy.
Finally, Sugarcups made a gorgeous cake for this beautiful couple. It was three buttercream tiers decorated with olive branches, white florals and eucalyptus.
About Villa Le Pizzole
Villa Le Pizzole in Florence is a traditional Italian villa with modern luxury. Set in the rolling hills of Florence, vineyards and olive groves surround the Villa. Therefore, it is a picture-perfect setting for your Italian wedding. Furthermore, it's perfectly positioned in the Tuscan countryside to be close to churches for a catholic wedding in Italy.
Their secret garden is a rare formal Italian garden filled with cypress trees and sculptures. The Villa has been lovingly restored to become one of the most sought after wedding locations in Tuscany.
A warm welcome for their guests
A destination wedding in Italy ensures that you and your guests can spend more time together, turning a day into a weekend event.
The Tuscan Wedding turned Elizabeth & Michael's perfect day into a perfect wedding weekend, planning events as the guests arrived in Italy. Firstly, with a fantastic Pizza Party Cooking Class, followed by a welcome dinner in Florence. All these events welcomed the couple and guests to Italy and also created a lifetime of memories.
We would love to thank Elizabeth and Michael for letting us be part of their amazing day. From start to finish it was a dream to work with them and bring their day to life.
If you want to know how we can create your dream catholic wedding in Italy, please get in touch.