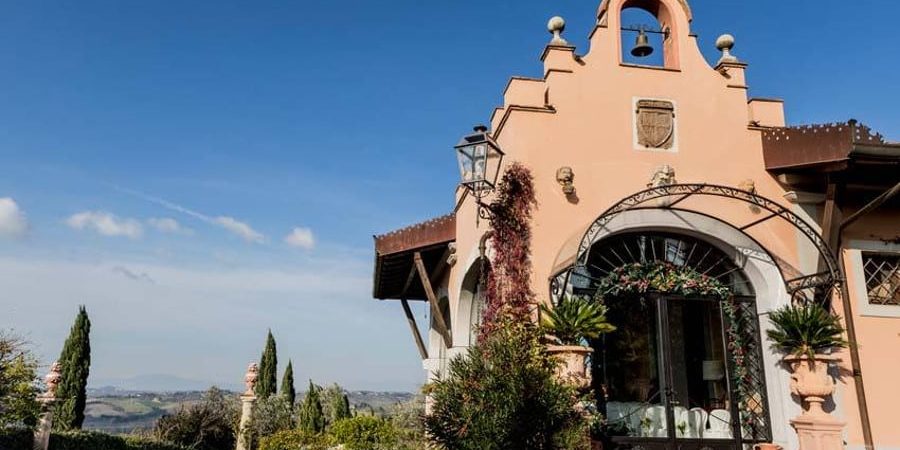 An enchanting backdrop for your wedding day
This beautiful hotel waits to accommodate you and your guests during the single most important day of your life—your wedding day! There are endless opportunities at this hotel to make your wedding day unique and detail-specific to your desires. The hotel books their notorious club in the front and in the green for private functions and gatherings.
There is even the option of holding a civil wedding ceremony in one of the hotel halls. For a religious ceremony, couples sound take advantage of the picturesque and magnificent exteriors of the villa.
For all angles, this hotel will be an enchanting backdrop for the photography captured during the ceremony. What makes this hotel a timeless rendition of the Tuscan style, are the classic furniture pieces, lovely light fixtures and adorning decoration to make this seventeenth-century villa stand out.
This villa is located in the heart of Chianti and the entire villa created to resemble ancient architecture. When looking at the refined buildings and prestigious and massive land, you will be overcome with astonishment.
The food provided at this estate is simply scrumptious and will have your guests wanting more. The greenery and endless vineyards in the surrounding area will ensure your wedding the freshest produce and most fine tasting wines. Don't wait to reserve your spot to plan a perfect wedding at this location gem.
Key Information
Where
Chianti
20 Minutes to Florence